Summer weddings often have cheery, upbeat colors, and usually veer on the light to bright side. You can choose colors that match the season easily!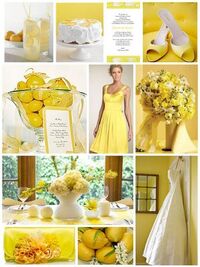 Yellow and white- Yellow and white make for a classic look. This theme could also work for spring, although it adds a certain sunny brightness to summer. Yellow and white roses make for good decor, meanwhile consider dressing your bridesmaids in yellow. If that's not a flattering color for them, you could mix it up and add pastel blue, pink, orange or green to the mix. Lemons also work as decor.
Hot pink, orange and yellow- These colors totally scream "summer". Bright, tropical colors give a summer wedding a great vibe. Tropical flowers, as well as decorative fabrics, tropical fruits and bright bridesmaids dresses make a wedding with these colors pop.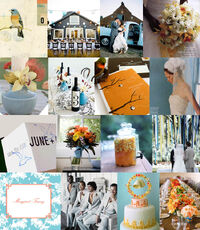 Aqua and Coral- This seems like an unlikely color combination, but it really works for summer! This color combination is unique, tropical, and warm. In addition, aqua and coral are relatively flattering colors for bridesmaid dresses. Consider using tropical fruits and flowers, or dyed roses, for decor.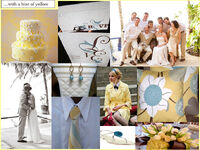 Light blue and yellow- Light blue and yellow works for a summer wedding, especially a beach wedding. This is a good color scheme if you want to work with beach and ocean motifs, or anything else nautical.
Pink and white- A pink and white wedding is also lovely for summer but it does run the risk of looking too girly, or too much like a baby shower. To avoid this, pick a more muted, "grown up" pink, instead of a candy pink. Roses, bridesmaid dresses, and decorative candies can all be used to give this wedding the full pink look.
Community content is available under
CC-BY-SA
unless otherwise noted.