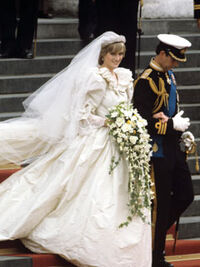 While Princess Diana's crazy '80s dress seems weird to us now, it was quite beautiful in its time. The wedding took place on July 29, 1981. The wedding was billed as the "wedding of the century" and caused great excitement both in England and abroad.
The wedding dress worn by Princess Diana would be worth about 25,000 pounds today, although given the currency of the time, it cost about 9,000 pounds. It was designed by Elizabeth and David Emanuel and followed the excessive, poufy fashion of the time. She also wore the Spencer family tiara, which reportedly gave her headaches since she was not used to wearing one.
Community content is available under
CC-BY-SA
unless otherwise noted.