Q: The list of guests for my wedding is 250, but my budget only allows for 150 people. How do I cut down my list without offending anyone?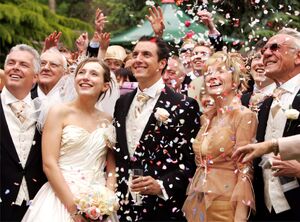 A: It can be difficult to pick and choose the guests for your wedding. Extra costs are expensive, but how do you choose who makes the cut?
1. Create two lists- list A and list B. On list A, include the mandatory guests (best friends, close family). On list B, do college friends, high school friends, and other people who don't absolutely have to attend. Try to weed out a few people on list B.
2. Leave off people who you will probably never see again, like old college and high school friends. 
3. You can also make your wedding 18+, which takes children and third cousins off of the list.
4. Don't feel obligated to invite coworkers or business associates. Also, don't feel pressured to invite people who invited you to their weddings. At the end of the day, do what is best for you and don't worry about hurting people's feelings.