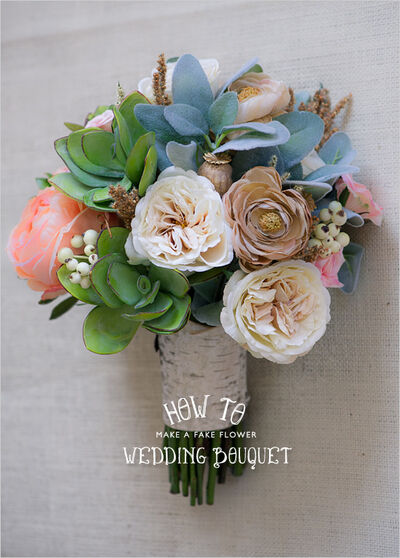 Supplies:
Birch bark, glue gun, twine, flower wire, flower tape, wire cutters. Vintage pins or brooch if you wanted to add a personalized accessory. (You can find these at a local craft store)


STEP ONE: Prepare stems by cutting into useable pieces. Use your wire cutters and and trim off all the excess leaves, leaving only one or two close to the flower.
STEP TWO: Choose 2-4 flowers to start the base of your bouquet.
STEP THREE: Start building your bouquet by adding flowers around your base flowers. You can do this by turning the bouquet around and adding stems until your bouquet is at the desirable size.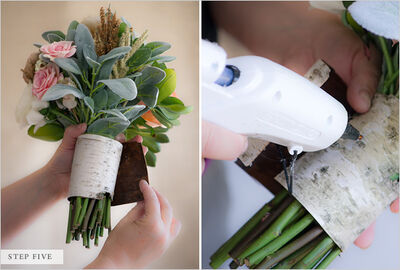 STEP FOUR: Wrap your bouquet in floral tape, starting at the top and traveling down the stem bunch. Cut the excess stems down until you have reached your desired length.
STEP FIVE: Cut a piece of birch bark to size and glue the underneath edge of the birch bark to the stems. (Find Birchbark on etsy.com)
Step Six: Cut a piece of twine about a yard long and put a dot of hot glue on the back of the stems above the birch bark to secure the end of the twine. Wrap the twine around the stems slightly covering the edge of the birch bark. Secure brooch or pin with hot glue gun and voila you have yourself a fake flower bridal bouquet.

Source: weddingchicks.com
Community content is available under
CC-BY-SA
unless otherwise noted.