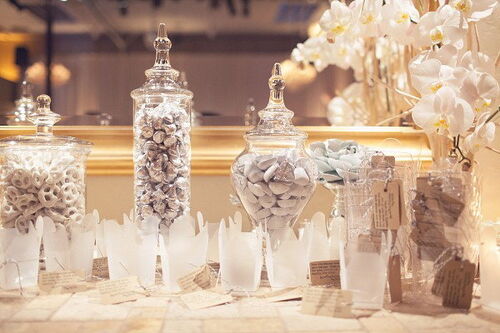 Color is key:  as mentioned before, having a specific color scheme can really make your table pop.  Monochromatic palettes can also be striking and elegant.  Make sure to consider different hues and shades – for example, if your colors are red and brown, don't be afraid of using different shades of reds and pinks.  If using primarily dark colors, try to use trimmings in lighter shades to bring energy to your table.  
Check the weather:  Will it be hot or sunny?  Will the table be indoors or outdoors?  If indoor, will there be AC?  If you're worried about warmth, save the stress and avoid candies that could easily melt (unfortunately this includes most chocolates)!
Fruit seasons:  if you're planning to use fresh fruit on your table (e.g. chocolate dipped strawberries), make sure you consider if they are even in season.  Strawberries in the winter might not be as sweet as when they're at their peak in the summer!
Not just candy:  if you're open to treats in other forms, consider mini cookies, kettle corn, or spiced nuts as sweet additions.  Placing the wedding cake or groom's cake on the same table can add visual diversity.
Be creative:  candy isn't just made to be eaten, but also to play with!  Bundle large lollipops together like a bouquet of flowers, or skewer some marshmallows to simulate kabobs – the possibilities are endless.  Be careful that you balance colors with candy selection.  Having more then 8-10 types of candy can sometimes become overwhelming unless you have a truly huge buffet. 
Keep it simple: having a variety of flavors and different types of candy can be satisfying to everyone, but don't be afraid to go with a specific flavor profile.  Whether it be a gummy bear bar or a chocolate truffle tribute, your guests will definitely enjoy the sugar rush!  The key here is candy that taste great. 
Don't buy too much!  It's easy to worry about not having enough for everyone, but if you're planning to include a meal and cake in your reception, guests probably won't be stuffing themselves with extra sugar.  A small portion of ½ cup (4 oz) or less is a good estimate per person.  If you want to buy in bulk for a visual effect, save large containers for popular candies so you won't have too many leftovers.  To help yourself plan use this convienent volumn guide.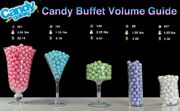 Source: Project Wedding
Source: Candy Buffet 101 
Community content is available under
CC-BY-SA
unless otherwise noted.